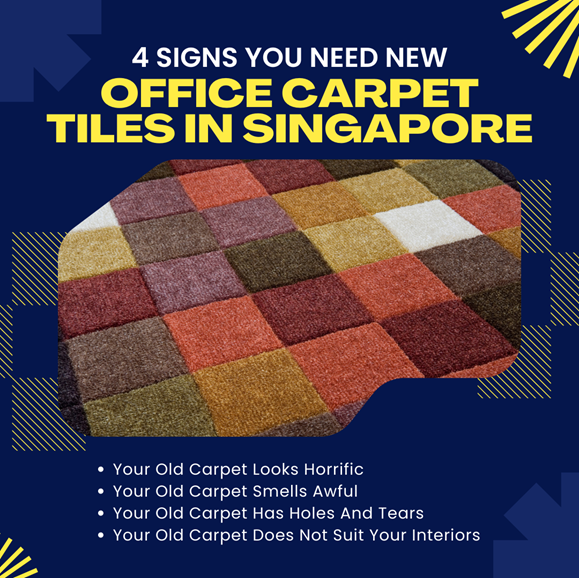 As business owners, we are responsible for keeping our office spaces in the best shape possible. A well-kept workspace can help our employees perform their tasks effectively and efficiently while ensuring customer satisfaction. Ignoring cracked walls, faulty wirings, and torn office carpet tiles may result in more headache-inducing issues that may keep us from reaching our goals.
Among the many workplace components we should maintain, the office carpet is one of the least prioritised areas. Since many entrepreneurs think daily cleaning is enough to look after it, the carpet fails to receive the care it deserves—resulting in issues affecting its appearance and functionality.
While washing and repairing your office carpet can prolong its life, you should know how to tell the perfect time to get your floor coverings replaced. Doing so will keep you from spending hefty sums for services that will never restore your old carpet's glory. Moreover, understanding when to buy new floors will help ensure that you are making your space as functional and visually appealing as possible.
If you notice any of the following times, consider phoning a carpet supplier in Singapore and let their experts replace your old and dingy floors that may be hampering your business' success:
1. Your Old Carpet Looks Horrific
If the carpet tiles in your Singapore workplace are brimming with grime and stains, now may be the best time to look for a supplier to provide you with new and better floors. You will not want to lose customers due to your dirty carpet that has become a bacterial breeding ground.
2. Your Old Carpet Smells Awful
Aside from its appearance, your office carpet's smell will tell you about its need for a replacement. If your cleaning personnel cannot pinpoint and eliminate its funky odour, you should consider visiting a trusted carpet supplier to purchase a replacement.
3. Your Old Carpet Has Holes And Tears
Your office carpet will no longer serve its purpose—to insulate your workplace, cover your floors, and give the space a cosy feel—if it has multiple holes and tears. You can purchase a few carpet tiles to cover these rips, but working with a carpet supplier in Singapore may be a better option.
4. Your Old Carpet Does Not Suit Your Interiors
Every place of business needs a makeover now and then. However, do not forget about your office carpet when renovating your space. You will not want a workspace that does not look inviting and motivating to your customers and employees.
Do you think now is the perfect time to shop for a new office carpet? Let The Mill International help you! Visit their website below to check their high-quality carpet options and reliable installation and customisation services.