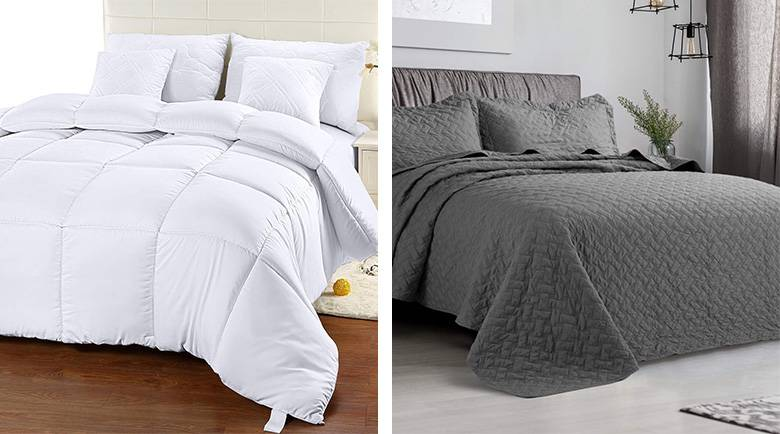 The day begins and ends in your bedroom. The biggest favour that you can do for yourself is to choose the best bedding that will allow you a blissful and comfortable sleep. There are thousands of options available from both online and offline stores in different colours, fabrics, thread counts, weaves, fit, etc. and hopefully you will find the best set of bedding.
When you are overwhelmed with the wide range of bedding options, you will need to consider how the bedroom gets cold during winter and how hot it becomes during summer, what temperature you would consider for a blissful sleep and how you want the bedroom to look.
There is actually no right or wrong when choosing beddings because it always comes down to lifestyle and personal preferences. For example, do you prefer a blanket over a comforter? A blanket is composed of one layer of material while the comforter is made from 2 layers of fabric with an insulating material between the inner and outer layers. Because of the insulating material, a comforter tends to be warmer than a blanket. A blanket made from wool and other thick materials can also provide more warmth on a cold night.
If you concern is visual appeal, comforters generally fit the bed and their colour and design can enhance the aesthetics of the bedroom. Meanwhile, blankets are often draped atop in layers. If you would rather choose on the basis of comfort, you can use the following in their proper order – bed sheets, blanket and the comforter on top. The blanket will act as the barrier between your body and the comforter so that you won't need to wash the comforter frequently. Comforters are pretty expensive and washing them frequently may result to damages.
One of the first things to take into account when shopping for bedding is the fabric. It makes sense to look for soft and breathable materials. Cotton is a popular favourite particularly in places where summer can be extremely warm because it is light and airy. Wool is an example of a heavy material that can keep you warm and toasty in cooler climates. Microfiber is a synthetic material that is known for breathability and resistance to wrinkles. While the choice can be a matter of personal preference, it makes sense to choose a bedding that corresponds to the climate in your state.
The way the comforter is constructed will determine the length of its usable life. Always check the packaging to know whether the comforter was made through baffle-box construction. This means that an internal fabric was used to spread out and keep the fill in place for an even warmth. Also indicated in the packaging is the thread count of the outer fabric. A thread count of 300 and more is a good choice.
There are custom-made cool comforters that will look fabulous on top of your bed. They come in different colours, designs, patterns and sizes. Available designs can be personalized further by changing colour and text so that the comforter will be unique to you only.