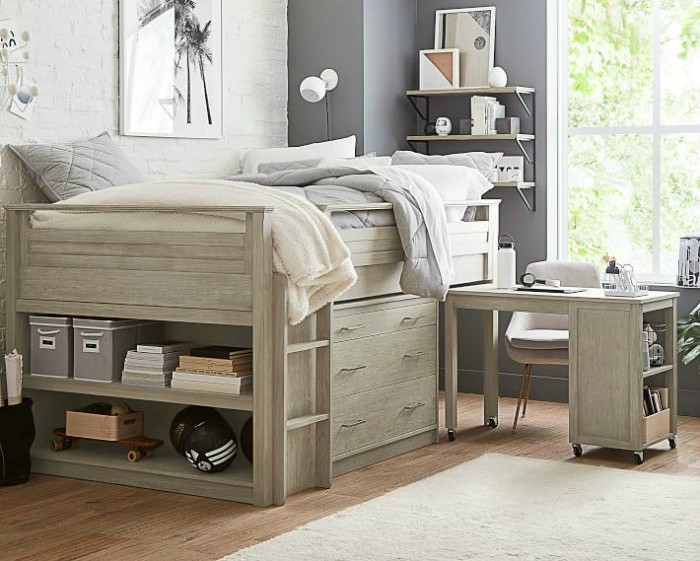 Loft beds generally come in many different sizes, shapes, and styles; there are off-the-ground beds for the toddlers, ceiling-skirting beds and many more. Suppose you are looking to buy childrens loft bed, stick over and look our guide it will help you make the right buying decision. It has answers to some frequently asked questions regarding the kind of product & available option for the kids loft beds.
Different Kinds of Loft Beds
The high loft works very well for the high school students & college students. Such lofts leave sufficient room for the furniture, such as dresser or couch and computer desk below.
Mid loft will be a bit higher that increases the space below for the storage. It's good to use such kind of the loft for 8 years kid.
Low loft will be ideal for the elementary school students. Like its name implies, such lofts are much lower to ground for the safety purposes, where underneath space will be used as the extra play area. You can add fun curtains and other decorative items if you want!
Corner loft combines 2 lofts at the corners that will create an ideal amount of the floor area for 2 kids sharing a room.
Things to Look in Your Loft Bed
Size of the Bed
The loft beds are not available only in the twin sizes—you will find loft beds for older teenagers too. When you are looking for the right one, pay attention to weight limits. There are some loft beds for kids that will handle above 1,000 pounds, however some top out at 250. Never forget to include weight of the mattress when you are doing this calculation.
Underbed Functionality
That depends on height of a loft, there're a lot of options available for underbed space made by the loft bed. The higher lofts will give enough room for the workspace with desk, bookshelf, or play area with the toy chest. The lower lofts will accommodate simple-to-access storage, hanging hooks, and shoe caddies.
Material
Another common material for the loft beds are metal or wood, even though some have got elements of the medium density fiberboard and engineered wood. The metal frames will be much lighter, however they generally tend to have the lower weight capacity compared to the wooden frames & ladder will be not very comfortable compared to wooden ladders and stairs.
Height and Style
Besides aesthetics of your loft bed, proper design elements that you need to consider are placement & angle of its ladder, width of slats, dimensions of guardrail, or how high bed sits. The loft bed must give enough room to move freely and without being inhibited by ceiling, thus lower loft style will be appropriate for the bedrooms with low ceiling.
Final Words
There're many different variations available when it comes to the loft bed that will make shopping for the right one a bit difficult. Providing you pay complete attention to materials, weight limit and size constraints while shopping for the loft bed, you are sure to find out the right loft beds.