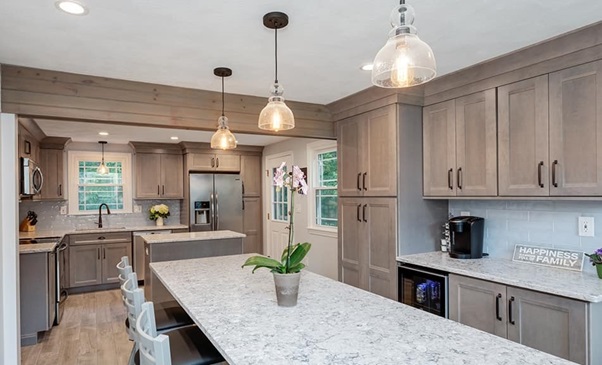 Unless you want your pantry to look clinical and lifeless, you need to work with colors that can instill texture into it, for example, the subtle shade of matte. This article is all about matte kitchen cabinets. 
Read on to discover proven reasons why you should always opt for matte cabinets in your kitchen remodel projects. 
Are Matte Cabinets Good for My Kitchen?
Depending on how you use your kitchen, matte cabinets can easily prove to be perfect for it. But after talking to professional interior designers, we found five good reasons why homeowners need to choose matte cupboards for kitchen renovations. 
Here are these reasons. 
Matte Kitchen Cabinets are Functional 
Rather than reflect light, matte absorbs light to keep everything around it warm. Unlike cabinets with glossy finishes, matte cabinets can withstand the pain of tear and wear while maintaining their ease-of-cleaning attribute. In this regard, if you choose them for kitchen renovation, matte cabinets will complement the design you choose in terms of practicability. 
Compatibility with Several Designs
If you choose matte cabinets for your pantry renovation, you can achieve any interior design you wish, thanks to the fact that they are compatible with all kinds of kitchen interior designs. Whether you want to achieve a traditional or modern-style interior design or even alternate between traditional and modern designs as fashion changes, matte kitchen cabinets will let you achieve that effortlessly. 
Matte Kitchen Cabinets are Durable
One of the things every homeowner considers during kitchen renovation projects is cost-effectiveness. Because everything is expensive, nobody wants to waste money on décor items that will be useless as soon as they are purchased. The longer-lasting properties of matte cabinets make them ideal for kitchen renovations. They ideally feature the toughest materials, for example, natural wood and laminate materials, all of which highlight them as durable and cost-effective. 
Contemporary Visual Appeal of Matte
Matte textures are prominent in contemporary homes due to their ultra-modern appearance. With the minimal luster defining their finishes, matte cabinets more often project an industrial appeal that is ideal for interior design renovations inclined toward modern-style kitchen designs. 
Access to Multiple Designs 
If you choose to work with matte kitchen cabinets in your next interior design project, be sure you will not be tied to one design variety when choosing cabinets. Matte cabinets come in different designs, all of which vary in terms of color, shape, layout, and styling. You can choose to go for matte black or matte white, depending on what works best for you. 
Final Thoughts
Matte kitchen cabinets are versatile and harmonious with multiple interior designs. From the need for functionality to convenience in terms of beautification and maintenance, there are many reasons to choose matte cabinets for kitchen renovation.