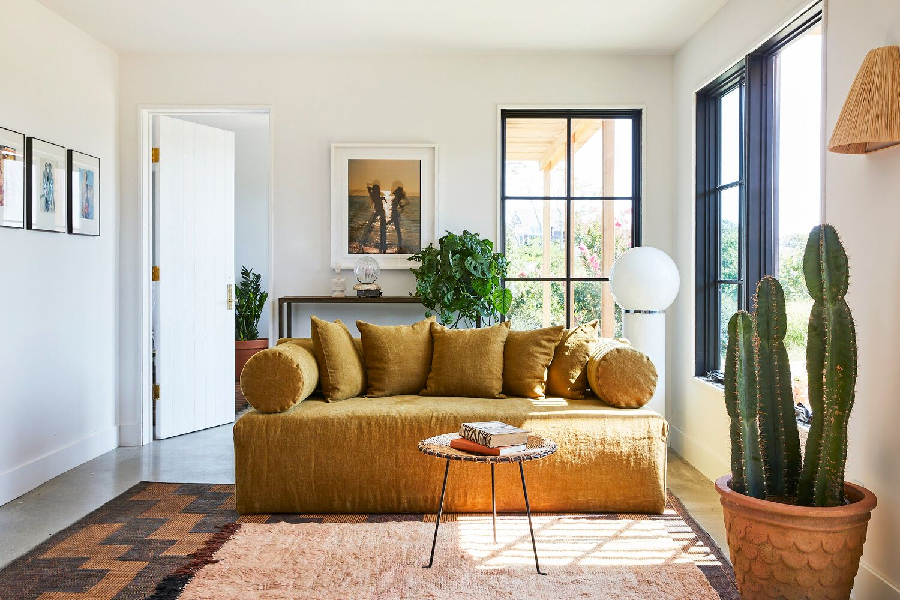 Apartment living doesn't have to be cramped and cluttered, and you shouldn't need to compromise comfort and miss out on the things you want and need in your home. Achieve the stylish, organised, practical apartment of your dreams with a few creative ideas to make the most of all available space.
Display Items On Walls
Use the wall space you have available. Mount hooks on the walls, and use them to display items like hats, jewellery and scarves. You can use your creative licence here to make a stylish statement, all while finding a convenient way to store those fiddly items. In the kitchen, consider hanging cooking utensils on the wall near the stove – convenient and space-friendly.
Pull-out Ironing Board
Traditional ironing boards can take up a lot of valuable space, and they're one of those items that you just don't need all the time, but need on hand when the occasion arises. Instead of a bulky, full-sized ironing board taking up space and getting in the way when not in use, opt for a pull-out cupboard ironing board. These are small and nifty, and easily fold up and stow away in a cupboard. You don't have to compromise due to limited space – these ironing boards are invented to be sturdy and reliable.
Caddies and Extra Shelving
Caddies are so handy, and have endless uses. A bathroom shower caddy will give you somewhere to store all those shampoo bottles, or hang one beside the mirror to store makeup, scrunchies and headbands. Attach small shelves to the inside of cupboard doors to add extra storage space – this will give you somewhere to store spices in the kitchen, or additional items in your wardrobe. Caddies can also be added to your furniture – for example, pop one on the side of your fridge to use up this forgotten space, and store pens, notebooks and other knick knacks. Attach hooks to the back of doors in your bedroom and bathroom, creating space to hang towels or handbags.
Use Those Corners
Make the most of every inch of a room, including the often-forgotten corners. Corner shelves will provide a spot for books, potted plants or trinkets, while also using up this dead space. If you have art or photographs you want to display, create a corner gallery of them all styled together. If you need more hanging space for clothes, attach an industrial-style bar from one wall across the corner to the other, and use this valuable space to hang tomorrow's outfits. Otherwise, create a small floating corner desk, so you've got a spot for your laptop, and find a small office stool that can be pushed beneath the desk when not in use – this way you've got your home office, without it taking up too much permanent space.
Storage Around Your Bed
If your bed includes drawers, make sure you use them well. Roll your clothing to fit the most in while still being practical and able to see everything. If you have space beneath your bed, invest in tubs to store seasonal clothing and shoes you don't currently need. Consider your nightstand, and see if there is an alternative that will offer more room for storage, such as one with drawers or a cupboard. Opt for wall-mounted lamps above your bed rather than floor lamps, so that you free up more floor space.
Floating Shelves
These are fantastic because they can be mounted just about anywhere, and don't take up any floor space like a bookshelf or shelving unit would. Think outside the box – these are great to use in living spaces and bedrooms, but also consider adding shelves in the wasted space above the toilet, to hold spare toilet rolls and bathroom products. Another great use is to place them above your kitchen benchtops, offering more shelving for glasses, plates and pots. Attach hooks to the bottom of the shelves, so that you can hang your mugs within easy reach.
A Trunk For Your Junk
Okay, maybe not literal junk. But a trunk or ottoman with storage inside is a great piece of furniture which offers so much space for storing items like spare blankets, towels or seasonal clothes. They come in so many different shapes, styles and sizes, so you can find one that will fit seamlessly into whatever space you have. Perfect if you've got small little alcoves that you want to use, but are unsure how. They can also double as a coffee table or extra seating for when guests come over – two birds, one stone.
Fold-out Table
A fold-out table is a perfect space-saver. When you have guests around or are sitting down for a meal, fold-out the table and easily stow it away again once you're done. This will keep you from having to edge around a table all the time, making sure it's just there when you need it. Alternatively, find an extendable table, so it's small most of the time, but extendable when you are entertaining.
Small spaces and apartment living can be stylish and convenient. Be honest about what you need – and want – to take up room, and think outside the box to achieve your dream space. There's no need to compromise on comfort – these are just a few tips to get you started on your journey to comfortable and practical apartment living.