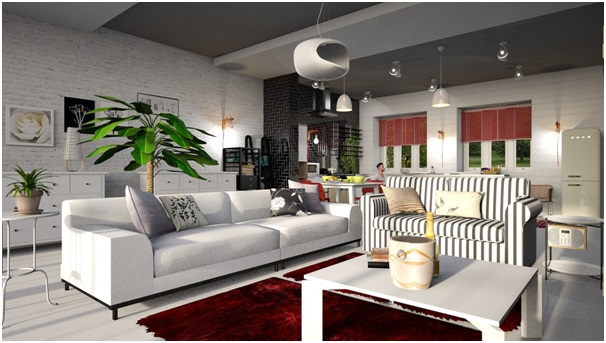 Flowers are a simple and yet effective way to spruce up any room in our home, but they represent an important decorative element in the living room especially. As the living room is said to be the central room of our home, we spend a lot of time there doing all kinds of activities such as chilling, watching a movie, spending time with family and entertaining. Thus, we should make it cozy and charming. The perfect way to do that is by arranging some flowers all around the room. There are different ways how you can use flowers to enhance the looks of your living room. If you're interested in what these are, take a look at some amusing ideas to decorate with flowers in your home interior. You'll see, a few flower arrangements here and there are going to make your living room look so much more appealing in a matter of seconds. The top floral trends nowadays in Australia are soft neutrals, functional flowers, bold coloured flowers as well as minimalistic design and strong fragrances.
1. Add life to your dull hallway leading to the living room
One of the best ways to get greeted when you enter somebody's home is to be welcomed by some stunning, fragrant flowers once you step foot in the hallway. A magnificent display of flowers has the power to transform any dull-looking hallway into an oasis of happiness and freshness. A colourful floral arrangement placed somewhere in the hallway is a great conversation starter, so have this in mind when choosing the right floral arrangement. You can mix and match colours as well as types of flowers in order to create an eye-catching arrangement. What you also need to pay attention to is the vase: it has to be in accordance with the room and the flowers as well. A neutral-toned vase allows colourful flowers to stand out. Flowers in the hallway are a great intro leading up to the centre of our home – the living room.
2. Freshen up the table with some amazing floral arrangements
The living room is usually the most spacious in our home, with plenty of ideal spots for amazing flower displays. Some living rooms are designed in such a way, that there is also a dining table in the huge open area space. You can use this to your advantage and order same-day flower delivery in Sydney, or your home town if you don't have the time to go flower shopping and you need an instant lift of your living room. You can go for one central piece or a few arrangements that vary in size, which you can place in a row – that's pretty hot these days. You can also spruce up any sideboards or smaller tables around your living room.
3. Use the myriad of colours and textures to your advantage
Flowers can be used in literally any colour scheme, as they come in a vast number of colours and shades, combinations as well as textures, so they are bound to fit in any home design. There is a whole science behind using floral texture to transform a space. You can use flowers to contrast the sleek design of the table and vase, for example. To add rugged aesthetics you could put some decorative stems in the corner of the room. The good thing about a floral arrangement is that you can change it every once in a while to achieve a new look.
4. Spruce up the shelves
As our living room usually also has plenty of shelves that display books or some decorative items, it's a perfect spot for some striking floral arrangements. Some interior designers even go for using the same arrangement more than once – it is said to add balance. To add some life to sleek and otherwise neutral shelves, you could put up some pretty, colourful flowers. You can experiment and try out a few colour schemes and flower types until you find the one that you like the most. You can easily move them and change them whenever you wish.
5. Remember that less is more
However, we should keep in mind that it's easy to go overboard. And if we go overboard, the whole point of flowers and arrangements will be lost. Sometimes even minimal effort brings maximum results. Design is all about the quality and choice of details and not quantity and the same goes for flowers. A single plant that's carefully chosen has the power to transform a coffee table or whatever piece of furniture into an impressive piece of modern and chic design.
When we are surrounded by fresh and scented flowers around our home, we somehow feel closer to nature and more relaxed. We can enjoy both visually and also mentally.