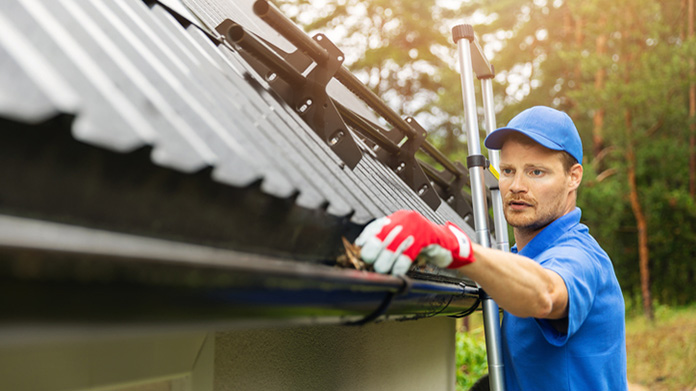 It is crucial to ensure your gutter is cleaned often to avoid blockages, left untreated can lead to expensive repairs and ultimately having to replace your gutter. Cleaning your gutter can be an unpleasant and time-consuming inconvenience so it may be more practical to hire a professional. If you live in Liverpool, check out Gutter Guys, a guttering company in Liverpool. This is also a good idea if you do not own the equipment required, do not feel confident up a ladder or if your roof is close to powerlines which therefore would need to be treated by an expert to avoid any serious injuries.
It can be difficult to find a reputable gutter cleaner in order to receive a first-class service and avoid paying extortionate prices. Firstly, ask friends, relatives or neighbours if they have recently had their gutter cleaned and if they would recommend the company. Word of mouth is an effective way to source high quality services and to avoid companies that may have produced poor quality results. It is recommended to first do some research of companies in your area and establish the services different gutter cleaning companies offer and their price range. You can then explore each company in further detail, finding out how long they have been trading and seeing if they have any reviews online. Be wary of any company that has no reviews or very little information provided about themselves.
'Trustatrader', 'Checkatrade' and other similar platforms offer a directory of vetted and recommended tradespeople, including gutter cleaning companies. They check the company's references, qualifications and public liability insurance to give you peace of mind. The websites also provide honest, reliable reviews from previous customers so you can gain an accurate insight on the quality of previous gutter cleaning work that has been completed. 
Once you have shortlisted a few reputable gutter cleaning companies it would be useful to then contact them directly to ask for additional information and ask for a quote. Give the company as much detail as possible about exactly what needs to be done, including the size of your house, the extent of the blockages in your gutters and whether you have large overhanging trees surrounding your property. The company may suggest coming to look at the drains beforehand so they can give you a more accurate quote. Speak to a few companies and see how each one comes across, their knowledge, attitude and approach can have a big impact on your final decision, it is important you feel comfortable around the person carrying work out at your house. Do not always go for the cheapest quote as this could mean they are compromising on quality, be sure to reread their online reviews if you are in doubt.
Once you have decided which gutter cleaning services you would like to hire ensure you ask any relevant questions before the company commences the work, therefore both parties are clear on expectations. Before the workers leave, confirm you are satisfied with the result and the work that has been carried out is to a high standard before making any payments. If you are pleased with the service, leave the company a positive review and recommend to friends, neighbours and relatives to assist others in finding a reliable, high quality local gutter cleaning company.