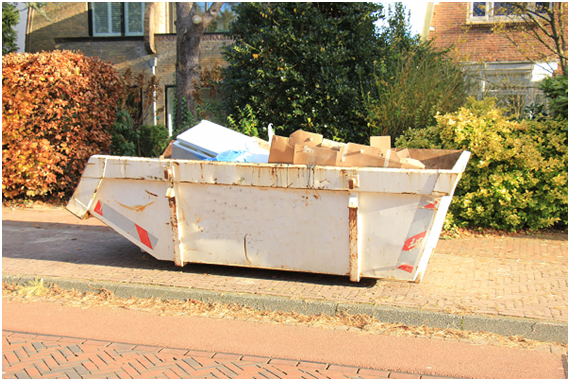 When you begin the process of a home improvement project and have piles of rubbish and building materials to dispose of, you may be wondering, "Which skip size do I need?"
We've put up a skip size guide to help you select the right skip for your needs and to prevent overloading it or having to rent another one.
What skip size do I require for my garden project?
When clearing the garden, you'll need to dispose of a large amount of garden rubbish, which requires a skip. Branches, leaves and grass clippings, old fence panels, broken garden furniture, soil, and gravel can all be considered rubbish.
A huge skip is typically required for thorough garden clearance, particularly if the garden is vast or the project is extensive. A smaller skip will suffice for modest yard chores such as cleaning the shed, installing new fences, or removing overgrown vegetation.
The 6-yard skip is ideal for larger projects since it can accommodate huge volumes of garden rubbish and also heavy goods. A 3-yard skip may well be enough if your garden is on the small size or if you're doing less demanding work. It's often impossible to predict how much rubbish will be generated when clearing a garden; therefore, it's best to hire a bigger skip to prevent error and then overloading the skip.
What size skip do I need for a bathroom or kitchen renovation?
The size of the skip required for dispensing with house rubbish is determined by the extent of the renovations. If you are merely remodelling your bathroom or kitchen, a huge skip is not required. However, be cautious not to underestimate the quantity of rubbish you'll have to dispose of, mainly if you are undergoing a comprehensive refurbishment or full renovation.
A 4-yard skip should be plenty for a modest kitchen or bathroom renovation. However, if you are doing a full remodel, a 6-yard skip would most certainly be more appropriate.
What size skip do I need for a home clearance?
When you're relocating and need to dispose of a large number of items, a skip might come in handy. However, one usually has more items than expected, so ensure you p a large enough skip.
A 6-yard skip should be adequate if you're just cleaning the house and eliminating useless items or if you're taking out a minor project such as a loft clearance or garage clearance. A 7-yard or even 12-yard skip is recommended for a full home clearing when the aim is to dispose of as much as possible before selling or moving from a property, including furniture.
What size skip do I need for a loft conversion?
Transforming your loft into a liveable area creates a significant amount of waste, including rubble and building materials. Traditionally lofts are used to store items, but eventually you'll almost certainly throw them away. While not as complex as a full property makeover, a skip is nevertheless required for a loft conversion since it allows you to simply take away all the old rubbish and start with a clean slate.
For a typical loft conversion, a 7-yard skip is capable of doing the job, but if you have a lot of personal items to get rid of or need to empty a fully furnished room, a 12-yard skip may be necessary.
Conclusion
Even the smallest home improvement project can create bags of rubbish, so when hiring a skip in Dublin, understanding how to choose a correct skip size is critical. It's important to select the appropriate size skip for your needs since they must be loaded securely and cannot exceed their specified maximum weight.