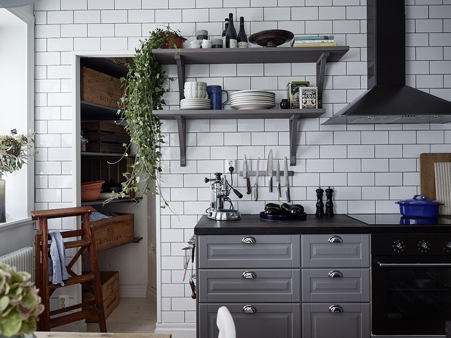 There are several steps to getting your dream kitchen. While deciding on the sink, cabinets, flooring, and worktops might seem all to you, don't forget the splashbacks. Without splashbacks, your kitchen will be a hub of food, wine, and oil stains – and who likes a kitchen like that? So, for kitchen renovations, invest in the best tiles for kitchen splashback and complete your dream kitchen.
What Makes Grey A Timeless Colour For Kitchen Splashbacks?
While we're on the topic of popular tiles for kitchen splashback, we cannot ignore the growing popularity of grey kitchen tiles. Aesthetic and functional are easy to clean and add a very alluring appearance to the entire kitchen.
Also, it effortlessly complements the rest of the kitchen décor and goes with almost any colour.
A manufacturer with years of experience in providing the best tiles for kitchen splashback will vouch for the efficiency and beauty of grey kitchen tiles.
Suppose you're someone who's particularly attracted to modern architecture and bohemian designs. In that case, the importance of grey is not lost on you.
It's a colour that acts as a meeting point between two all-time favourites – black and white. Thus, they are used for flooring, worktops, and walls. Besides, it's a dark colour, and therefore the stains are not very prominent on it.
Grey kitchen tiles have a very premium look, and once sealed with white or light-coloured grout, their appeal is unbeatable.
Best Choices For Kitchen Tiles Splashbacks
However, if grey is not your colour, we have other options for the best tiles for kitchen splashback:
●     Black Glass Splashback:
If you've lighter kitchen cabinets and worktops, black glass splashbacks will look great on the kitchen walls, and the bonus is that stains are not very prominent on them. Thus, go for this modern and sophisticated aesthetic to bring all your kitchen décor dreams to life.
●     Herringbone Subway Tiles:
You can get a chevron splashback in a herringbone pattern with subway tiles. Yes, you read that right. The efficiency of subway tiles combined with the appearance of herringbone will give you a kitchen worth everyone's envy.
●     Marble Tiles:
Marble is a very durable material and can be easily cleaned. Besides, it gives a very luxurious look to the kitchen. It shouldn't come as a surprise that it is included among the best tiles for kitchen splashback, given its sturdiness and reliability.
Conclusion
A kitchen is undoubtedly the hardest working room in the house. It is where you conduct all your food experiments and cooks up enviable delicacies. So, never compromise when it comes to kitchen splashbacks.
You get a wide range of options available on the market, from the subway to terrazzo to marble and granite tiles for the kitchen. What you choose ultimately boils down to your personal preference and budget constraints.
The best kitchen tiles for splashback should be functional and beautiful. After all, it's going to occupy a prominent place in the kitchen. Opt for luxurious and reliable tiles that you can find from a reputed supplier at very affordable prices. For more expert advice and guidance, it is recommended you contact your local kitchen tiler