Wine coolers are so trendy these days as they are aesthetic and offer easiness in enjoying chilled drinks. Whether you are a lover of wine or not, you will still love this small-sized and perfectly designed cooler. It's portable and easy to handle so you can place it anywhere you want to get an easy approach to your drinks. Things seem so perfect with having a wine cooler but you should be a little careful and know some important things before you head to the market to grab one for you. Since you need it, you should try to make it perfect with little patience.
Types of Wine cooler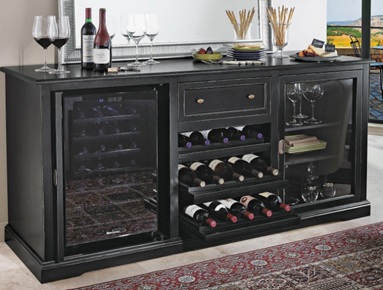 Before purchasing a wine cooler, you must look at its different types. In the market, varieties are available and you might get confused with so many options at a time, thus it's necessary to have this knowledge in your mind already. Generally, there are three types of wine bars available currently. The first and well-known one is a free-standing wine bar. As its name says, it's designed to stand free and it's non-attached with any source. You can place it wherever you want and it's so easy to handle. Moreover, you can have different sizes in it and you can get as small and comfortable as you can place it on your work table.
Another type that you usually find is an integrated wine bar. It's designed to fit onto any cabinet. It doesn't seem fully fitted or attached but it feels like floating. It's aesthetic and you can get so many designs and styles. People prefer this type of coolers for kitchens as these offer a seamless appearance and it's the perfect thing for a kitchen. Also, it's widely available at any appliances stores so you don't need to worry.
Another cooler type is built-in and it is a little bit similar to the free-standing but it needs space to vent warm air. People choose these built-in wine coolers under the cabinet. This is the perfect option for bedrooms as it seems so perfect and doesn't disturb the appearance and style of your room. Rather than this, it adds lavishness to your room decors so you can consider this wine cooler cabinet as the perfect option.
Feature of wine cooler
You get multiple features in the different wine coolers. The first thing that comes is the temperature zone, where a cooling system exists. These come with one or two temperature zones but you can get more than that in different wine coolers. Some good quality ones have separate humidifiers that increase the potential of the cooling systems and keep the wine very fresh. The choice depends on you so you should decide after knowing what's needed to you. It can depend on the wine type that you drink and the quantity that you drink. After knowing these all things, you can choose a perfect wine cooler for you to keep drinks fresh.