Murano Glass Centrepieces are world-class home decoration item that money can buy, all made by hand, with severe skills from the artisans that can leave every guest at your house in complete awe but also adds to the rest of your house's interior design setting, compliments every other thing with it.
We have all the different sorts of Murano Glass centerpieces that you can think of; these can be classic, modern, or unique ones; it completes your incomplete home decore; these include Blown Glass Centrepiece, Decorative Glass Centrepiece, and Coloured Glass Centrepiece all available at our shop.
These centrepieces have a golden history attached to them which is why they are highly rated across the globe since several centuries, it all began in 16th century Venice, when some people started to use some, now ancient locally available ingredients, like riverside pebbles, leaf, cobalt, to make glass artifacts in the nearby island known as Murano, it was then that these products became world-renowned, these ingredients combined with talented artist that used them with the help of a hot furnace, all lighten up on the entirety of island, moulding, curving, shaping them to perfection, adding glowing colours, contours to the design of it which made and still makes it famous worldwide, that no other Glass Centrepiece can match or compare towards, this is why famous personalities of the past like the king Philip of Spain, considered it a collectible item to be kept alongside in their elusive possessions which they felt pride towards which is also the reason it was considered a precious item back in the day to contain for someone.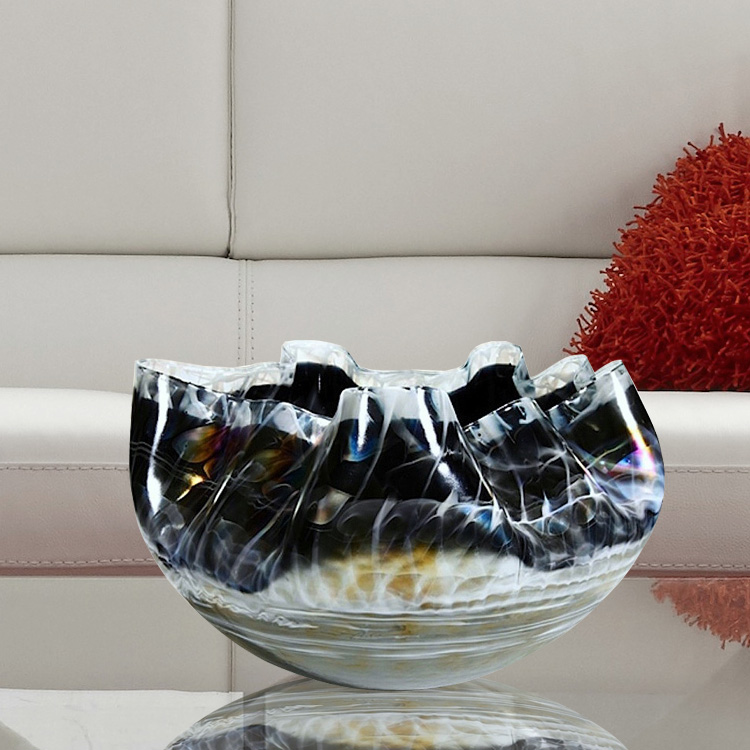 All the Murano Glass Centrepieces are crafted in several weeks, so you can almost guarantee the durable quality will be unmatchable and the enchanting charm that they carry within themselves no matter how you use them to design your house.
Different Murano Glass Centrepieces for distinct use purposes you need, do not despair; we have many designs, shapes, sizes, and colors for you to choose from and make a well-informed and educated decision; want something decent, easy on the eyes. You may be suitable to go for the river elegant shell centerpiece, aqua, or marine life lover? You can have 3 in the place of one for that; as Laguna set, 3 pieces of blue vases are a perfect choice to either be placed separately for a matching theme spread across or combined in your living room, an Amberly red loyalist? Then you may be interested in going for the line red multicolored murine plate along with Amalfi red and classic green bowl, and you want something unique and well suited for a contrasty white maybe. You might want to go with Febe black glass vase with tiny light blue details that just seal the deal.
All the things about Murano glass centerpieces or any other category, we have it all; contact us now to place your order through yourmurano.com, which includes free shipping worldwide, in a safe packaging that protects your centerpieces, origin trademarked from Venice, Italy, and just in case, has free returns and refunds policy with every purchase you make with us.