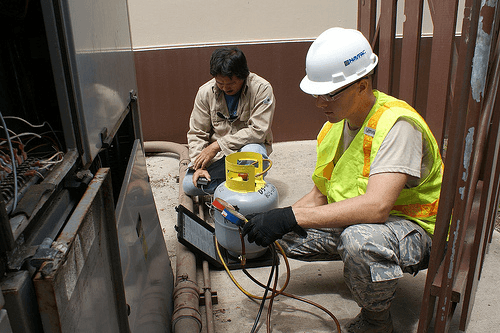 The main purpose of having Heating, Ventilation and Air Conditioning (HVAC) system in a home or building is to ensure good indoor air quality through adequate ventilation with filtration and to provide thermal comfort. In most parts of the country, the use of HVAC system is required by climatic conditions for acceptable thermal comfort.
How to choose the HVAC system
The selection of an HVAC is sometimes a complicated process because there are many factors that have to be considered like the heating and cooling needs, humidity control, energy efficiency, indoor air quality, outdoor air quantity and quality, potential for natural ventilation and costs.
There are different types of HVAC air handling units (AHU's) but the most common are unit ventilators and individual heat pump units that works well enough for a single room without ducts. There are also central air handling units that can serve several rooms through duct work.
When space is inadequate and there is no need to recirculate air in between room, a better choice would be unit ventilators and heat pumps. However, the drawback will be the difficulty of maintaining multiple units' overtime. They are also opportunities for moisture issues through wall penetration and drain pan and discharge problems.
Compared to unit ventilators and heat pumps for individual rooms, central air handling units have more advantages. Central handling units are quieter and less drafty due to its multiple supplies. There are fewer components making the system easier to maintain. It is also easier to control humidity and condensed moisture drainage. There is more space around the unit making it more accessible to maintenance.
How to maintain indoor air quality
A typical HVAC system has multiple controls but the control of outdoor air quality that enters the indoors will have a significant impact in indoor air quality. In many instances, indoor air quality can be 2 to 5 times more polluted than the air outdoors. These concerns can be addressed by the application of basic engineering principles and indoor humidity control. Odours and various pollutants can be removed through ventilation.
In addition, there are also airborne particulates like pollens, mould spores, animal dander, insect proteins, pesticides, lead and infectious bacteria and viruses. To solve this problem, HVAC designers integrate features into the ventilation system to ensure its efficiency and longevity. These features also minimize the need for expensive duct work and air handling units' cleaning.
To ensure the proper operation and maintenance of HVAC systems, designers make components easily accessible. Air handling units, controls and exhaust fans must not require a ladder nor the removal of ceiling tiles to be accessible. The components of the system must be labelled properly to help facilities' personnel in maintaining the system. Labels must be easy to read and installed next to the equipment.
However, problems with the system cannot sometimes be avoided. There is HVAC Chicago that provides 24/7 fast and reliable emergency service to the Chicago community and nearby areas. All services are 100% guaranteed with the promise that you will get the best value for your dollar.