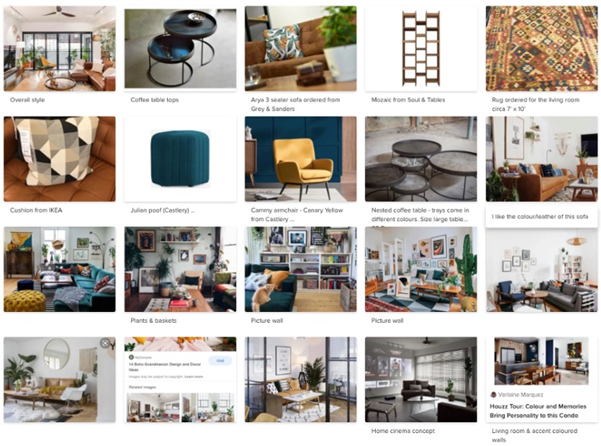 When it comes to a Bohemian-styled home, you might think of a space characterised by free-spiritedness, lacking in structure, and flowing with colours and textures. Rather than be constrained by a typical design framework like other popular design themes such as industrial or Scandinavian, Bohemian homes are meant to allow for creativity to flow freely; almost like a mish-mash of styles that complement each other to provide for a unique and vibrant living space.
Today, we'll be bringing you on a journey through a Bohemian-styled penthouse home within Twin Vew, a condominium nestled along West Coast Vale amid lush greenery and a stunning waterfront view of Pandan Reservoir.
Brief
When it came to planning for their home, the [family name], who are ex-pats living in Singapore, had one main emphasis: have nothing built-in. This is because they enjoyed the flexibility of being able to move whenever they wanted and needed to, and as such, required their home to be as mobile as possible too.
To bring their style ideas to fruition, the homeowners consulted an interior design firm [add ID company name here] to help conceptualise the design theme for their home; one that would match their somewhat nomadic lifestyle, but also in the meantime be a warm and welcoming space for them to spend time and enjoy each other's company. In terms of colours, they also indicated that they would like pops of colour throughout the home, and nothing too plain.
Working with [ID's specific name] from [ID company], they compiled their preferences sourced from various outlets online into a mood board (shown below), to outline what they liked and would like to be incorporated into their home. In addition, the homeowners accompanied [ID name] to shop for furnishings and fittings that would complement the home's design, such as colour-matching them to the design palettes while ensuring that the dimensions were to size.
The result? A stunning and vibrant home that they can proudly call their own, and yes, having nothing (well, almost nothing) built in.
The Living Room
Starting from the living room – where the heart of the home truly lies – what immediately strikes you is the lack of a television, which is common in pretty much every living room. This was intentional, as the homeowners had indicated they did not want a television occupying space in the living room. Instead, they decided to fill the space with some of their favourite prints, as well as a simple shelf to house some books and other art pieces.
That being said, they still hoped to be able to enjoy the occasional movie night or binge on the latest series on Netflix. This is where the ingeniousness starts, and it's actually hidden in plain sight.
Based on [name of ID]'s recommendation, a hidden retractable projector screen was installed within a false ceiling, which can be brought down easily with the touch of a remote as and when needed. With the aid of a projector hanging overhead, the screen acts somewhat like a pseudo television, and this allows the family to still enjoy some entertainment without having an actual television.
"But what about the sound?" you may ask. Well, this is where another highlight of the home's design lies. Embedded behind the false ceiling is a hidden sound system consisting of four speakers, which flawlessly projects sound all around the room – while not being actually visible. This is made possible by sound experts AOE, whose stealth acoustics systems offer dynamic full-range audio, without regard to architectural conflicts that take place with conventional speaker boxes and grills.
Just next to the living room beckons a spacious balcony space that the homeowners have purposed into a sitting area, with a small sofa, deck chairs and a coffee table. This is where friends and family can hang out on beautiful, sunny days, and soak in magnificent views such as sunset over the neighbouring Pandan Reservoir
Bedrooms
Moving away from the living room to the bedrooms, what you'll notice is that there is no one central design theme that runs through the bedrooms. The lack of conformity is a testament to the true theme of the home – free-spiritedness, creativity, and without built-in structures. Regardless, it serves as a comfortable space for the family to retreat to after a long day, for rest and relaxation.
Advice For Fellow Homeowners
So what advice would the [family name] have for fellow homeowners looking to start their home design journey?
For starters, it is crucial to have a general idea of what you want your future home to look like. Get some inspiration from design ideas posted online by interior designers or creativity platforms like Pinterest, and remember to save those pictures as references! Compile them into a mood board, and be sure to specify what exactly you like about that design concept. This will help your interior designer narrow down what you would like and do not like in your home.
During the process of renovation, it would also be helpful to take plenty of photos to help you colour-match the fittings with other furnishings/small accessories. For example, once the kitchen space is more or less done up (i.e. cabinets, countertop), having a photo of them while shopping for kitchen accessories like coffee machines and disk racks would give you a much easier time in choosing what matches your kitchen theme!
Along the way, be sure to also take measurements – not just the general length, width and height of rooms, but also the exact dimensions of where you would like key furniture and fittings (e.g. beds, desks, sofa) to be. This is so that you won't get any unnecessary surprises later on in the design process; the last thing you would want is to realise that your chosen bed doesn't fit into the designated space in the bedroom!
This article first appeared at https://beautifulhomes.com.sg/twin-vew-a-glimpse-through-a-bohemian-styled-home/. Check out Beautiful homes for more articles on interior design ideas.