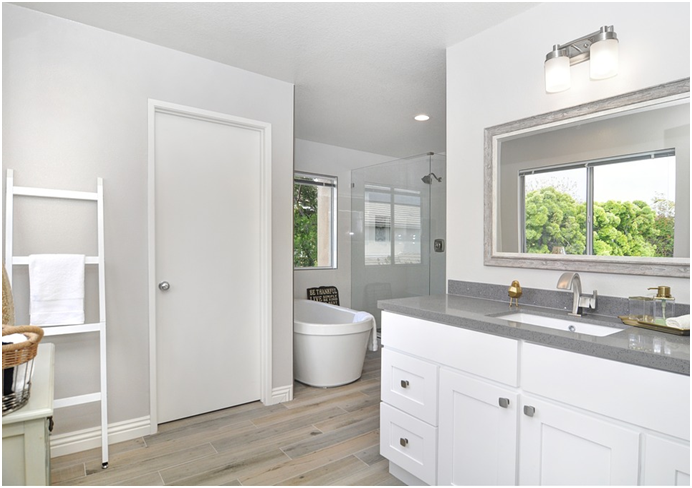 Home remodels tend to be on the expensive side, but nowhere is this more apparent than in the bathroom. If you've ever remodelled a bathroom, you'll know that it can be a logistical, costly nightmare. To make changes to any elements that are fixed to pipes, you'll need to hire a plumber. Even some minor adjustments can be costly, at least if you don't have any experience with bathroom remodels. The good news is that you don't have to break the bank when freshening up your personal oasis. To save some money on the remodel, you should consider a few of these tips.
Keep the same plumbing layout
If you're unsatisfied with the position of your sink, shower, or toilet you might want to spice things up and change their locations. While this isn't an uncommon practice in bathroom makeovers , you have to keep in mind that this change is expensive.
Modifying the existing piping system is no simple task. A plumber will charge you upwards of $5000 to change the layout of the plumbing. Think twice about repositioning important bathroom elements if you want to save money.
Check for sales
Bathroom elements and accessories can get expensive. If you're itching to save some cash, you can always visit a garage sale or look online for good deals. While you might not want to skimp out on things like tubs or individual ceramic pieces, there's no reason you can't choose cheaper faucets or lighting fixtures.
Finding a discounted price for some elements may take a while, but it's well worth the wait. Be patient when searching online postings, or try your luck with a local garage sale. An old faucet can be polished and redone to look brand new, so you shouldn't hesitate to look for one.
Choose affordable vanity tops
If you don't have the budget for an expensive vanity top but want to keep your bathroom looking exquisite, there are plenty of options available. You don't have to choose a granite or quartz top for a stylish look.
Many modern bathroom designs incorporate stone remnant and tile vanity tops instead. The best thing about these materials is that they look good without being too expensive. If you're looking for the perfect blend of affordable and attractive, choose a unique tile that gives your bathroom personality.
Implement efficient changes
When you decide to remodel your bathroom, you should consider implementing changes that will save you money in the long run. Choose tiles and bathroom elements that are easy to clean and maintain for long periods of time. When installing a shower, pick a water-saving showerhead. It's going to help you keep the water bills down.
Don't forget about smaller details, either. An automatic soap dispenser is much more efficient than a bar of soap. For one, you don't have to replace it every so often. Instead, you can buy a bulk fill model and plenty of soap to use it with. Not to mention, they're more hygienic and easier to clean.
Nowadays, you're much more likely to see a Davidson Washroom soap dispenser in a bathroom than a bar of soap. It's a move in the right direction, as buying soap in bulk is more cost effective than restocking bars every time you run out.
Use LED lighting
There's no doubt about the efficiency of LED lights. The normal bulbs people use, which include fluorescent and incandescent lights, require too much electricity and burn out rather quickly.
LED lights don't have these issues. While they may be on the expensive side, it's only the initial purchase that will cost you. LED lights are extremely efficient solutions for home lighting, especially in the bathroom. Instead of replacing bulbs every couple of months, you can purchase LEDs and use them for years on end. It's a change that pays off in the long run.
Conclusion
A bathroom remodel doesn't have to be a supremely expensive venture. You can make some major upgrades without spending thousands of dollars on things like vanity tops and faucets. At the same time, you can save lots of money by introducing changes that end up making your bathroom more efficient. With the right approach, you won't think of your remodel as a waste of money, but rather an investment into the value and efficiency of your home.
 Jack Kewell is writer, science editor, naturalist, entrepreneur. He is focused on writing and illustrating books. Also, he is a regular contributor on Mountaintechblog