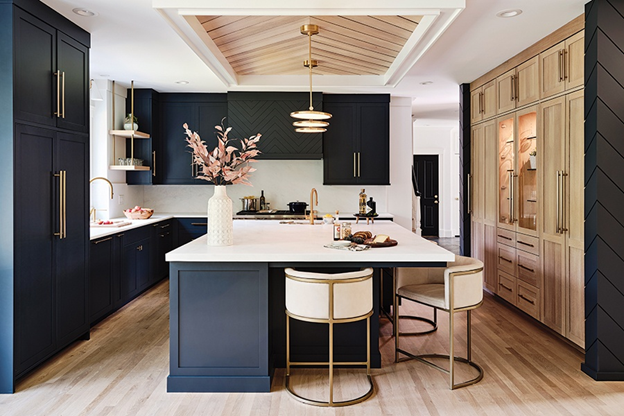 Is black an option that you can have in your kitchen space? Discover the hidden secrets of black in the kitchen.
Black is one of the colors that are underrated in the kitchen space yet they have a precious significance. Anyone thinking of kitchen remodeling should consider black kitchen cabinets as an option for adding a black element to the kitchen space to enjoy the unlimited benefits of black in the kitchen.
Benefits of black cabinetry
Timeless and classic
One of the biggest benefits of installing black cabinets is that they are timeless. Unlike other colors that are dictated by the prevailing trend, black is one that never fades. It is a classic color that transcends through generations. Therefore, investing in black kitchen cabinets is a guarantee that you won't have to change your cabinetry color anytime soon to conform to the trend.
It is versatile
Black is a bold color that works well with quite a number of colors in the kitchen. It is easy to create a theme around black cabinetry. You don't have to worry about kitchen elements rhyming because they can always revolve around black.
Makes a kitchen compact
Anyone with a large kitchen space always needs a calming color to make the kitchen compact. Black kitchen cabinets are helpful in reducing the vast space into a compact kitchen space. For small kitchen spaces, black should be used to certain limits to avoid making the kitchen look over congested.
Easy to clean
It is also beneficial to have black cabinetry in a busy kitchen space. They are helpful because they don't show dirt easily. Therefore, homeowners can always schedule their cleaning routines. However, this does not mean that you can wait for ages without cleaning the cabinets – there should be a regular cleaning schedule that will ensure dirt doesn't stick to the cabinets.
Sophisticated touch
Black is a rare color in most kitchen spaces. This means that it carries a lot of value. In most cases, black is associated with a touch of elegance. It has a sophisticated touch that will make you look unique if you have installed black kitchen cabinets. It is also a social ladder for homeowners that want to appear wealthy.
Summary
Black is an elegant color that delivers a bold statement in the kitchen. Its versatility makes it easy to accessorize to make your kitchen beautiful.